Atari Opens Crowdfunding Campaign For RollerCoaster Tycoon on Nintendo Switch
If you're interested in seeing RollerCoaster Tycoon on the Nintendo Switch, then you may want to keep a close eye on Atari's latest investment venture. Atari announced that the company has created an equity crowdfunding campaign to fund a RollerCoaster Tycoon game for the Nintendo Switch, in a press release from this afternoon.
The title, currently called RollerCoaster Tycoon Switch, is being built through an investment campaign on StartEngine. Through Atari Game Partners, RollerCoaster Tycoon's Nintendo Switch iteration will be an "original game made specifically for Switch" that has "exclusive features" specifically for the platform. Nvizzio Creations, which previously worked on the free-to-play mobile game RollerCoaster Tycoon Touch, will work on the game's Switch iteration.
"At Atari Game Partners, we're confident in the incredible potential for the RollerCoaster Tycoon franchise on the Nintendo Switch," Atari Game Partners' president and COO, Todd Shallbetter, said in the press release. "Community investment will secure the development process to create an exciting new version of this iconic franchise for gamers around the world to enjoy."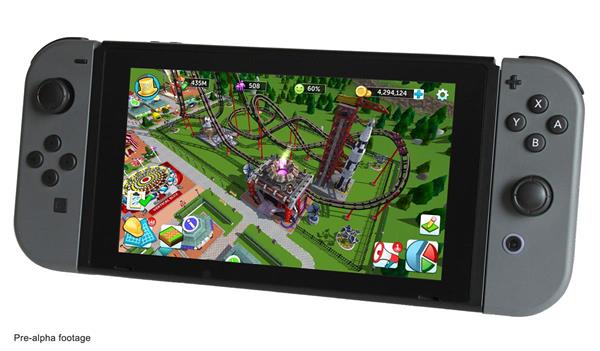 As for the crowdfunding campaign itself, RollerCoaster Tycoon's Switch rendition is a little more complicated than a simple Kickstarter offering. Investors will have to put down at least $250, after which they receive a pro rata share of 50 percent of profits until an investor receives 120 percent of their original investment.
There's also several perks that come with investing in the game. Investors receive an investors-only site limited from the public. For investing $750, investors are also given a 25 percent off discount for RollerCoaster Tycoon Nintendo Switch, and at $1,500, investors are granted a free copy of the book The Art of Atari.
It's unclear for now how popular investment will be for RollerCoaster Tycoon on Nintendo Switch, but the crowdfunding initiative is a good sign that Atari wants to expand the franchise's presence in the coming year ahead. Expect more information as the crowdfunding venture receives its initial investments.